Introduction
Healing Trails seeks to heal the people by healing the landscape. Its pandemic response consists largely of developing methodologies to improve conditions on the streets of Winnipeg quickly. It is conceived as an emergency transportation measure to link missing pieces in Winnipeg's walk and bike network with designs that offer comfort, pleasure, connection and safety. The program will involve design interventions with minimum costs and optimum results. Its first interventions began on Winnipeg's Open Streets.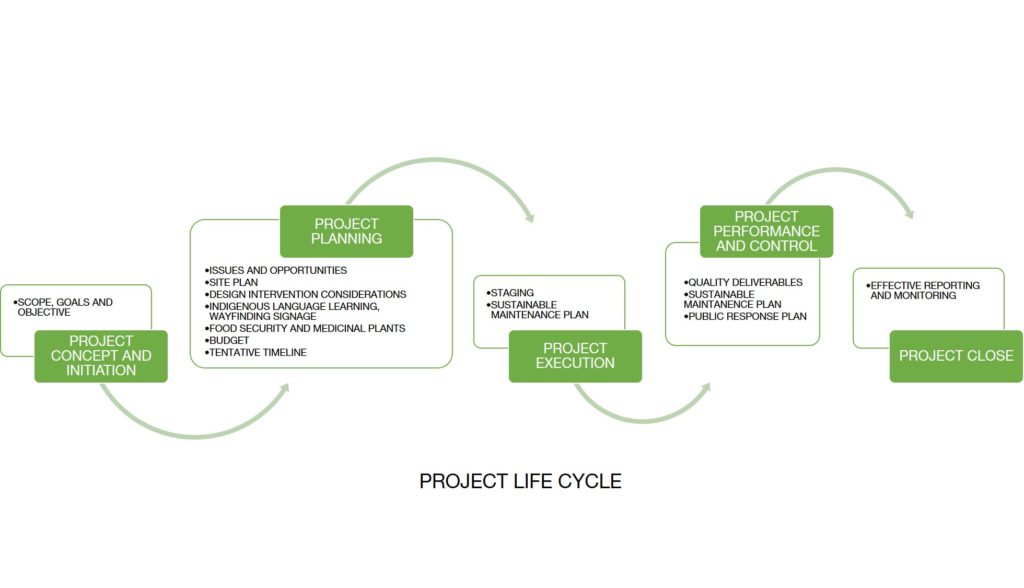 Project concept and Initiation
Our project aligns with the City of Winnipeg's effort of limiting motor vehicle traffic to one block on 10 Sunday/Holiday Bicycle routes (known colloquially as Open Streets) between 8:00 AM to 8:00 PM. This project is an effort to assist with social distancing requirements during the COVID-19 pandemic.
On April 6, the City council approved the use of Open Streets until September 7, 2020 and directed the Public Service to engage the community regarding the potential future implementation of Open Streets.
Our organization focuses on taking the open streets opportunity to the next step by offering community input and effort, thereby improving the City's planned activities. In August 2020, the City of Winnipeg sought public feedback on the longevity and design of Open Streets. Anticipating that public desire for open streets that were beautiful and predictable – and a need to act quickly, Healing Trails has investigated options for several locations.
Healing Streets is developed and implemented by an indigenous-led youth crew; it began to upgrade open streets temporarily in July 2020. The overarching goal is to offer hope, transfer indigenous knowledge and language, demonstrate resilience and help all people imagine a positive future.
We propose to replace the barriers planted by the City with Winnipeg made narrow planters fulfilling the same function. The planter box can help in traffic calming, and the medicinal plants can help heal the street.
Project Planning
Issues and Opportunities
Our planning process starts with a survey of the area. We identify the issues and challenges of the street in the context of the users and the neighbourhood. For the Rover Avenue project at South Point Douglas, we went door-to-door two weeks before planting to consult and know the community's view. The consultation helped us in refining our identified issues and challenges in the area.
Site plan
The site plan included the marked location of the narrow planter in the light of our design considerations and City guidelines for safety. In addition to the upgrade barricade sites, we recommend planters with benches be installed a minimum every 500m with an attached bench, giving parents with young children and elderly a place to rest. These planters are similar but are oriented parallel to the curb, 5m from the far curb edge, and roughly in line with the side of a parked car. Our renderings of the street cross-sections include multiple scenarios of planter positioning and distances from the curbs.
Site plan example for Wellington Crescent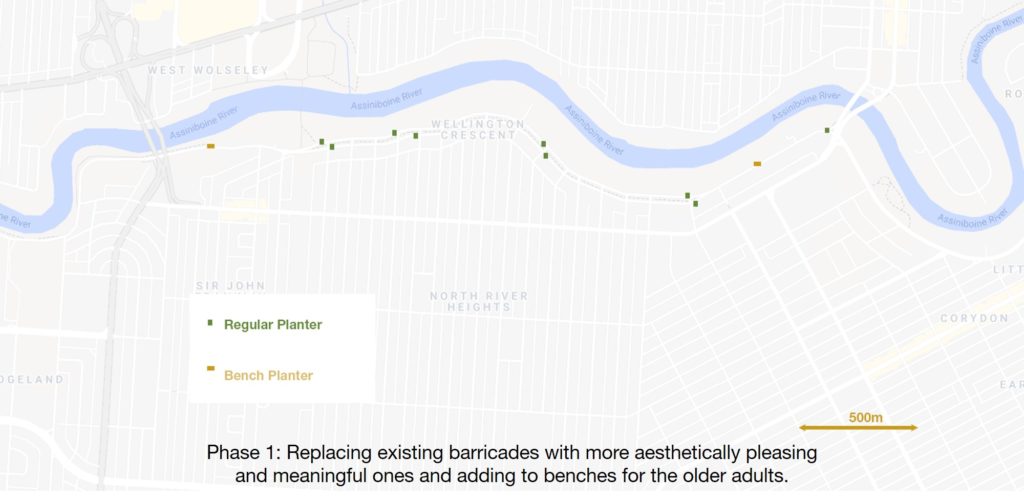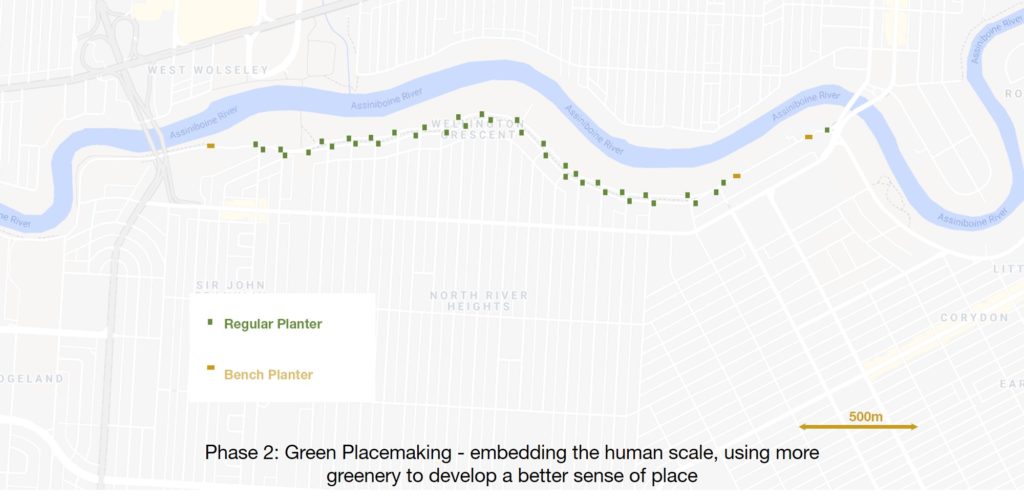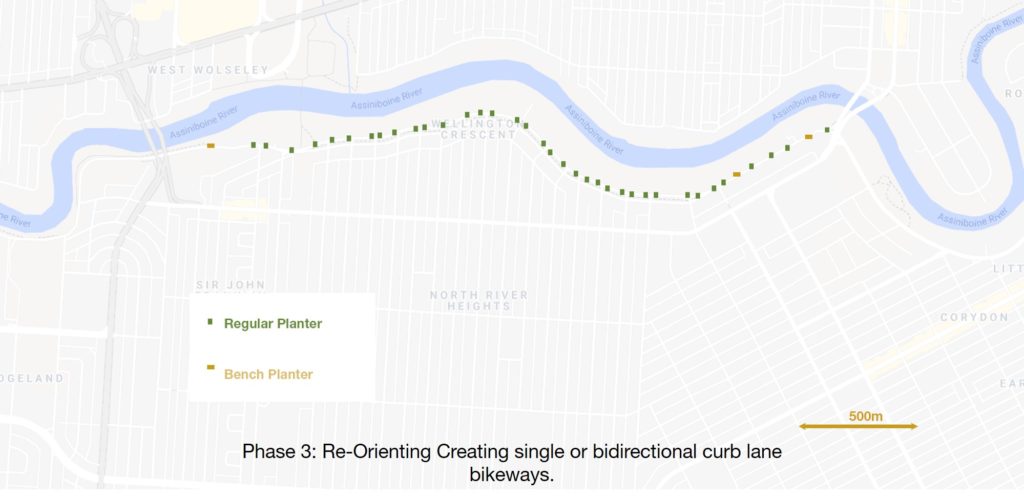 Site plan example for Ellen street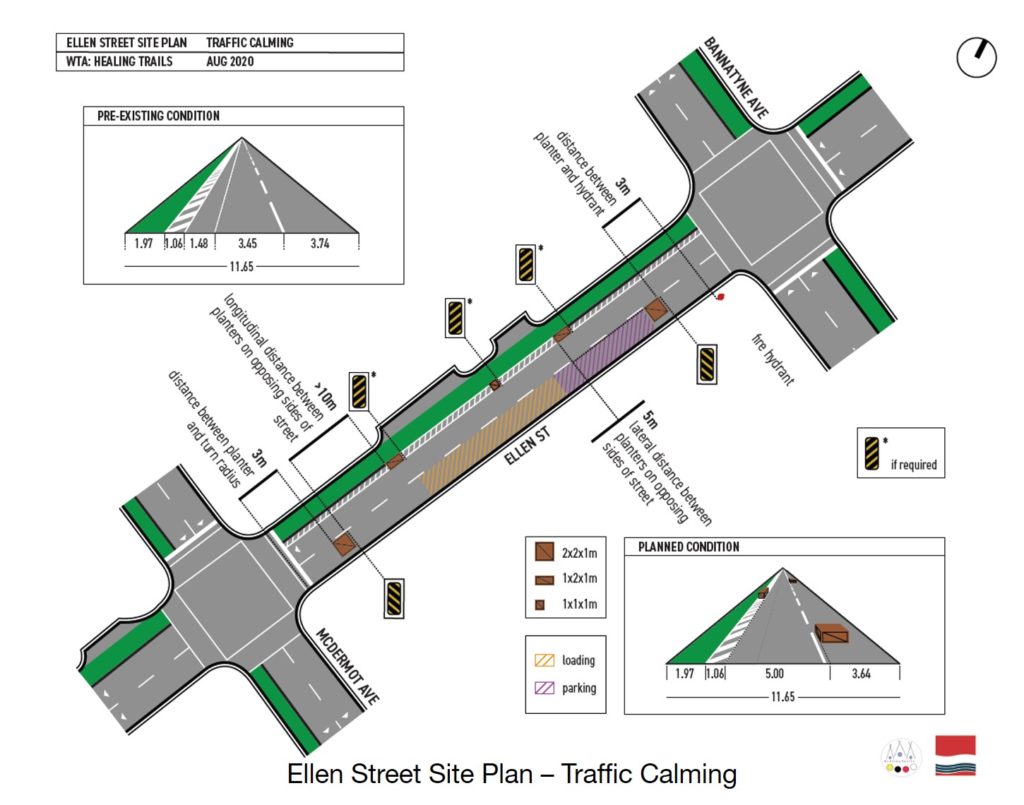 Narrow Planters on Rover Avenue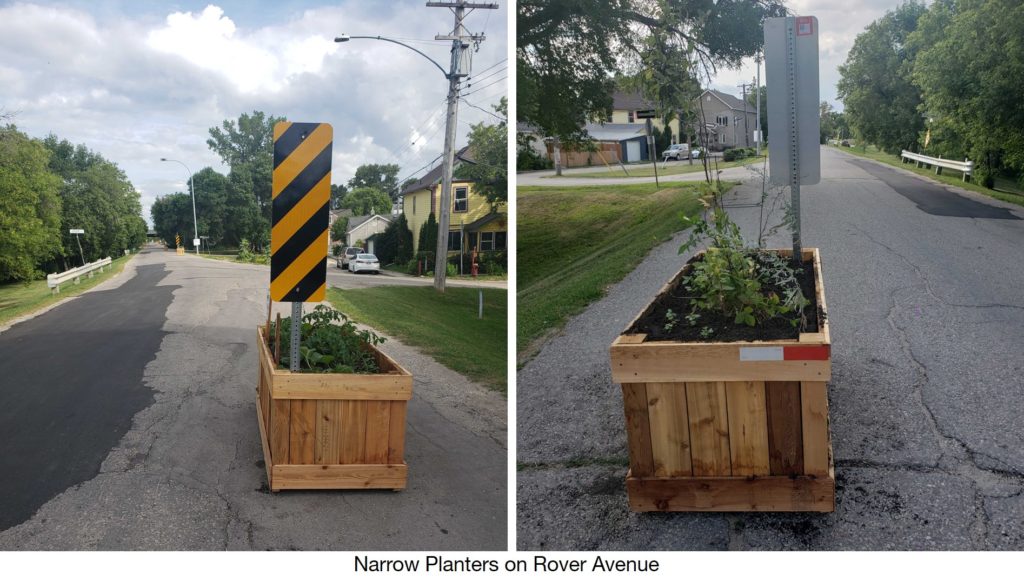 Indigenous Considerations
We see the projects as an opportunity to include useful wayfinding signage information such as proximity to nearby destinations and healing through language revitalization into Indigenous languages by etching the translations into the planters. We aim to provide opportunities and support programs that honour Indigenous languages and culture. We see medicine walks, dancing for healing, pipe ceremonies, walking for justice, and sometimes bingo, happening on Winnipeg Trails.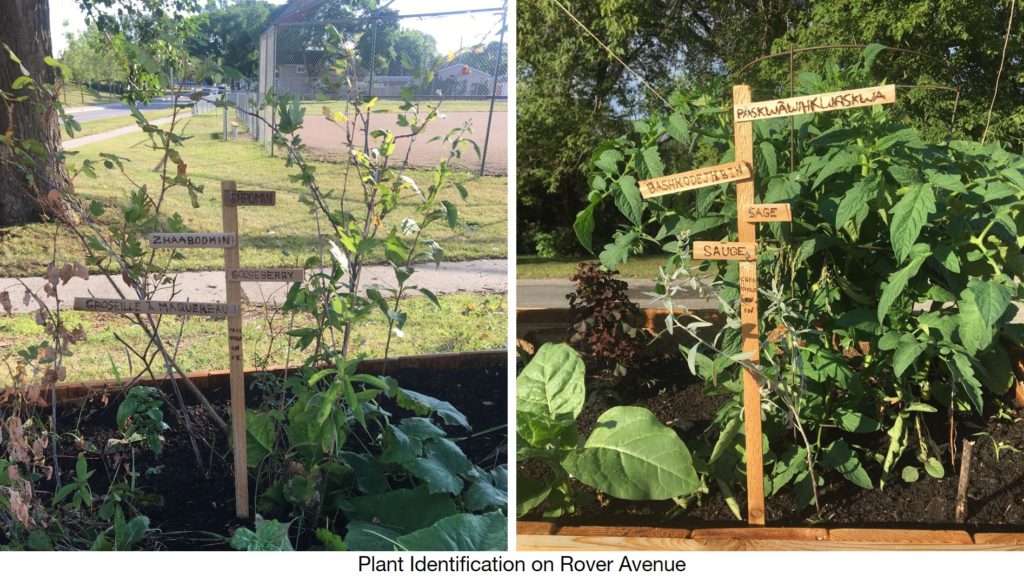 Funding Consideration
The funding for this design, implementation and management of this project will draw on funding already provided by the Trans Canada Trail and supplemented by local councillor Land Dedication Reserve. Each planter requires $250 in materials depending on the complexity, the addition of benches, etc., with additional costs for labour and minimal maintenance.
Cost-Benefit
The costs for sidewalk construction vary but an estimated average is about $400k-450k per linear km. This project ensures a cost-effective shared use of space, with long term reductions in insurance, policing, and healthcare.
Project timeline
Pre-planning – Proposal Development Data collection (already begun).
Phase 1 – Initial meeting with City of Winnipeg

Week 1 – Demonstration on an open street of one planter. Initial data collection/intercept surveys.
Week 2 – Full site installation.
Week 3 – A community gathering
Ongoing – Measurement and evaluation

Phase 2 – Additional phases as warranted or required.
The typical street can be completed in as little as 72hrs and typically within a month depending on the availability of permissions, materials, etc.
Project Execution
Staging and Evolution
Some projects can be executed in three phases, leading from simpler interventions to more complex ones that provide the separated infrastructure of diffused traffic calming over a larger neighbourhood. The phases may differ for each street depending upon the site plan, but our goals and objectives direct the general idea.
For example, the three-phase Adjustments to Wellington Crescent are:
Phase 1: Replacing existing barricades with more aesthetically pleasing and meaningful ones and adding to benches for older adults.
Phase 2: Green Placemaking – embedding the human scale, using more greenery to develop a better sense of Place
Phase 3: Re-Orienting Creating single or bidirectional curb lane bikeways.
Sustainable Maintenance plan
Healing Tails will provide water on a biweekly basis for the summer as needed and seek funding or City of Winnipeg assistance in subsequent years. All materials and water will be moved by cargo bicycle by crews when possible. Nearby residents with hoses that reach the planters may "adopt a planter" and are encouraged to donate any other plants they may have. We anticipate that Green Team funding and other partnerships/grants will allow the Healing Trails program to perform regular maintenance, monitoring and oversight.
Project Performance and Control
We plan on delivering a quality plan that will enhance the landscape of the street. We plan to increase safety inherent in reducing motor vehicle speeds, and we will be taking steps to ensure workers' safety during installation. We will use pylons to alert drivers of ongoing work while the structures are being assembled and have First Aid equipment and trained supervisors on site. The planters will be affixed with appropriate warning signage, as advised by the City of Winnipeg. Volunteers have proper safety training, and staff will have liability insurance and WCB.
We plan on collecting data on all the open streets throughout the summer, and our effectiveness will be measured based on intercept surveys and pedestrian/cycling data collection. We would also like to acknowledge the continued support from Trans Canada Trail, Trails Manitoba, Winnipeg Foundation, Government of Canada's Canada Summer Jobs program, and the Province of Manitoba Green Team on this project.
Project Close
Effective Reporting and Monitoring
We plan on surveying the open streets throughout the summer and collect data for effective reporting and further analysis of the project. The response so far is positive. Residents of the South Point Douglas have helped to provide initial support by donating plants and helping the organization maintain the planters. Our team remains focused on making Winnipeg's open streets a role model to other municipalities for the response to the pandemic.
All media enquiries to:
Janell Henry
Program Manager
Winnipeg Trails Association
431-996-1875
[email protected]
For more information, contact Santan Singh or Anders Swanson.
[email protected]
[email protected]