I started out by driving to the trail head near Beaudry park. There is some parking available, which is always nice for me. The trail sign is pictured to the right, as you can see there is some graffiti on it. This damage blocks the sign information and map which is unfortunate. The trail itself is on an abandoned CN railway bed that traverses the municipalities of Heading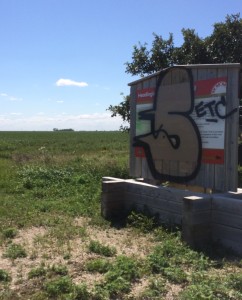 ley and Cartier and covers approximately 10 km from the Perimeter Highway west into Beaudry Park. Bordering the trail there are small patches of trees which are home to many birds, bugs, and below, flowers. Along the trail you'll experience three of the major ecosystems of the Prairie region – prairie, wetlands and forest. Aside from the trees, all I could see are farms. This is nice in some areas because it gives you a feeling of solitude, but not so well in others because I almost felt I was trespassing or a weirdo walking in between peoples farms. This path seems to be used for farmers to get to other parts of their lot because there were a couple trucks I had to pass on the trail. There are also lots of quad tracks. Quads are not allowed on the trail but honestly who is going to stop them?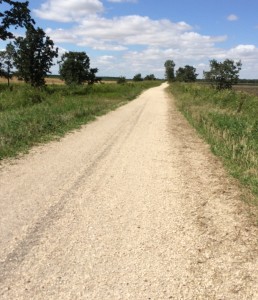 I would probably quad there too honestly. The path is mostly gravel, which is nice because grass paths can be uneven. What the path looks like for most of the way is to the left.
Honestly, I would not come back to this trail. Its just not worth the drive and the trail itself is pretty boring. I walked for an hour down the path and did not even reach Headingley. However, I would come back to Beaudry park. I looked at some of the trails that were inside the park and they looked like something I would want to walk. I recommend checking those out if you want to come to this area, not the Grand Trunk Trail.
Written by: Samantha Worden (Sam)
Sam is a Trails Analyst summer student with The Winnipeg Trails Association. She is working towards a degree in Environmental Studies at the University of Manitoba with a focus in Natural Resource Management. Her hobbies include reading, bike riding, camping, watching and posting on YouTube, and various forms of paper-crafting and planning.