This evening I walked the Bunn's Creek trail with my dad and my dog Sophie. I wanted to try this trail out because it was close to my area of town (transcona) and I had yet to p
lot some Gems there. (Hint Hint new gems on Bunn's Creek).  We started at the Malcana Park parking lot and went North on the trail heading towards the Red River. The trail is a combination of pavement and packed gravel, so only parts of the trail are accessible by wheelchair or skateboard etc. The path follows Bunn's creek through parks and slopes with many trees. I would compare this trail to some of the birds hill park trails, only with a few backyards and residential street crossings.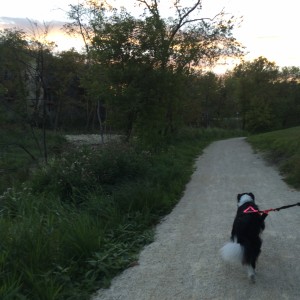 What I liked about this trail is the abundant vegetation and various wildlife. There are many different flowering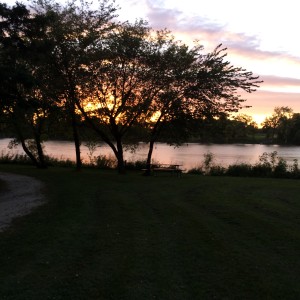 plants, more than one beaver dam, and of course, squirrels. Sophie took interest in the squirrels. I also appreciate when a trail has points of interest like interpretative signs or cool bridges. It is a peaceful walk, yet you feel like part of the community with people passing by every so often.
The trail is very connected and thought out. There are ample trail signs for points of confusion, large overhead crosswalk lights for crossing busy streets, and nothing blocking the path or obstructing it. Very well thought out and maintained.
The best part is the view of the Red River at sunset. You never know what you will find when you walk down a Winnipeg Trail.
Written by: Samantha Worden (Sam)
Sam is a Trails Analyst summer student with The Winnipeg Trails Association. She is working towards a degree in Environmental Studies at the University of Manitoba with a focus in Natural Resource Management. Her hobbies include reading, bike riding, camping, watching and posting on YouTube, and various forms of paper-crafting and planning.