This evening I went to Little Mountain Park to walk the various trails and to place gems. It is a nice little park and I would recommend taking a trip there with your pet and maybe having a bonfire.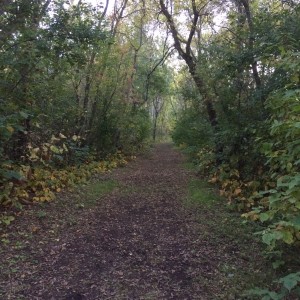 To start the first thing you need to look out for is dog poop. It's everywhere despite the copious signs telling people to pick up after their pet and the numerous garbage cans for them to deposit your waste bags in. There is no reason for someone to leave their dog poop on the path. Aside from that, the paths are well maintained and pretty to walk down. I can confidently say this is a walking path only, as most of it is grass (some is wood chips). It is not accessible for wheelchairs or any other active transportation. Great to bring a fuzzy friend though, as there are many dogs running around.
Speaking of dogs running around, make sure your dog is on a leash and in control if it is not friendly. Our dog was spooked when a little terror of a dog ran up to us barking and snarling with it's leash dragging behind him. Accidents happen but it took the guy a solid 2 min to come get his crazy dog. On the bright side we said hi to many other nice dogs. The park is noteworthy for their off leash and on leash areas for people to let their dogs socialise and have fun.
One of the areas of interest on the Winnipeg trails map is the limestone quarry area. The old pit is turned into a pond. Its kinda icky looking but it provided a lovely sunset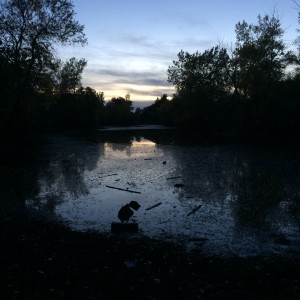 picture moment.
This park had some pretty cute picnic areas which would make great evening bonfires. If you live closer to here than birds hill park then I think Little Mountain Park is a great substitute. A side note about transportation though, its pretty hard to find on a in car GPS system because Farmer Road is called something else on the satellite map and its not listed as a "park" on our GPS.
Written by: Samantha Worden (Sam)
Sam is a Trails Analyst summer student with The Winnipeg Trails Association. She is working towards a degree in Environmental Studies at the University of Manitoba with a focus in Natural Resource Management. Her hobbies include reading, bike riding, camping, watching and posting on YouTube, and various forms of paper-crafting and planning.