Last Sunday, Dan (my trails analyst boyfriend – who is making me do this) and I biked to the forks from my parents' suburban home (lame, I know). Usually we go north through Saint Boniface, but for the sake of a story, he dragged me on a longer route through Osborne I was unfamiliar with.
First, we rode down John Bruce Road to a pedestrian bridge to cross the Seine. This part of the bike ride was fine, as there was low traffic and we safely travelled on the street. We were able to converse and meander.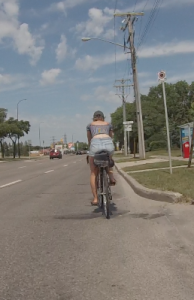 After the Bridge we had to bike on St. Anne's, which was probably the most unsafe part of the trip even though it was only 100 meters. We had to bike single file, keeping as straight and parallel as possible to the curb, while impossibly avoiding potholes and ruts which forced us off our seats to lower force of impact, all while vehicles travelling over 60 km/h whizzed by. Conversation was impossible and not enjoyable. At the approach to Awasisak Mēskanow (Formerly known as Bishop Grandin) a right turn lane opens but we kept straight to enter the diamond lane and cross once the light turned green.
Next we had to cross St. Anne's to get on the Awasisak Mēskanow Greenway. Many times a vehicle has come to a stop past the stopline on the southbound left turn lane to Bishop, which cuts off the crosswalk and forces crossing pedestrians and cyclists closer to Bishop's 80km/h traffic. However, on Sunday this thankfully did not happen. One more unsafe spot is crossing the southbound right turn radius as many drivers simply just don't stop, cannot see, or are travelling way too fast. It is also difficult for us as pedestrians to judge whether the vehicle can see and is actually going to stop.
Finally we were on the Awasisak Mēskanow Greenway, which is for the most part good, with exception being the turn lanes at Home Depot. We then turned north on Dakota, crossed St. Mary's and continued on Dunkirk. Dunkirk bike lanes are a bit weird as the wide greenway type path turns into sidewalk at some points and back into Greenway. On the road there is a faded bike lane painted. As a cyclist am I expected to get on and off the greenway and road when the sidewalk sections come? – not sure. The Dunkirk greenway ends just after the golf course by the south Osborne Bridge; we then biked on the sidewalk. That bridge is way too scary. This area needs to be fixed.
Last time we biked this I didn't feel comfortable on the road, and rode on the sidewalk. This time Dan took us down Hay; which was better but still only okay in my opinion as I was still with cars on a roadway.
At the end of Hay we went through a weird little maze of apartment walkway, back alley, dirt path through trees, parking lot and secondary roadway to reach a crushed stone path that went along the river. The very beginning of the path was a little too inclined and a little too tight of a turn radius to be comfortable to bike down. I cannot imagine this path would be accessible to a disabled person.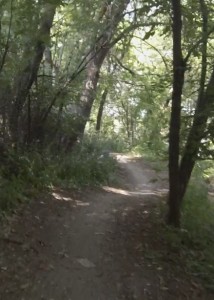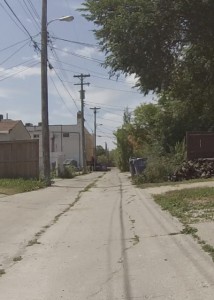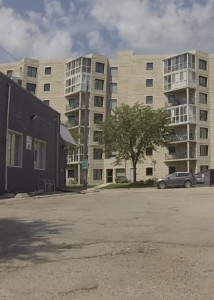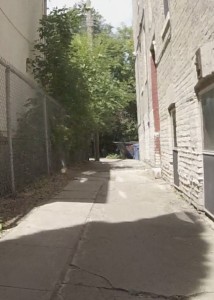 The path spit us out under the railway at Stradbrook and Main where we crossed. At the crosswalk for main we pushed the button, waited, waited, pushed the button again, waited – at this point the man across that was there earlier than us crossed when no cars came and shrugged – and we did the same. The crosswalk light still did not come on, as we continued north. At the Forks we turned right on the green bike lanes and reached our destination.
The return trip was nearly identical except we turned right at main after the green Forks lanes to use the new bicycle crossing. There were pedestrians on the other side, and two cyclists on our side. The light turned green and everyone began crossing, Dan leading our side. A vehicle turning right onto Main from Assiniboine waited on the other side. Just as the pedestrians gave him enough room he began turning without looking at our direction and came very close to Dan. He apologized but ultimately should not have made the turn. After that we rode on the sidewalk until the crushed stone path leading us back down beside Osborne. We meandered through the maze somehow a different way and continued down Churchill for a change of scenery. This felt safe as almost no cars were present – the few that were passed us at safe speeds and gave us tons of room. We continued onto Jubilee, hooked a left at BDI and looped back onto Dunkirk from Kingston Row. The remainder of the bike ride went identical to the before trip just in inverse order. The safe areas felt safe, and the unsafe areas still felt unsafe.
Written by: Jennifer Sawatzky (Jen(ny))
Jenny is Dan's partner. Currently she handles frozen yogurt, but hopes to own a coffee shop / truck combo in Berlin. She lives part time in their Volkswagen Westfalia, and in her spare time bikes, hikes, cross country skis, camps and plays volleyball. Her other spare time is spent entertaining —or tiring out— her golden doodle puppy Theodore. She is a devoted Winnipeg Trails app user, having won the initial 'Gem Blast' prize. Her username is HiddenJen. She is attending University in the fall, with an unknown as-of-yet end goal— she is open to suggestions.
UPDATE (2023-03-07): This post has been updated to reflect the renaming of Bishop Grandin Boulevard to Abinojii Mikanah, and Bishop Grandin Trail to Awasisak Mēskanow, as chosen by the Indigenous Knowledge Naming Circle. The printed material and graphics on this website will be updated as soon as possible, as a next step. Additionally, we would like to acknowledge and appreciate our colleague Janelle Henry, who has played a part in the renaming efforts.