Last week I journeyed to Bridgewater forest to walk some of the various different trail pieces that are located in this residential neighbourhood. My goals of walking so many trails are as follows, to hide gems, review the trail, and maybe walk kilometres off my incubating Pokemon Go eggs. (I am there anyway may as well have the app open right?) From walking so many trails I ha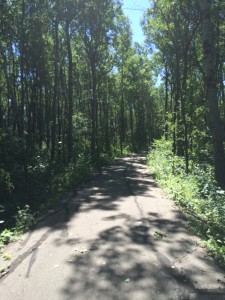 ve discovered so many new beautiful parts of Winnipeg. I encourage you to do the same.
Bridgewater Forest is a beautiful neighbourhood that makes me shamefully jealous. Whoever designed it, I congratulate you. The sign at the begining of where I started was pretty neat and the houses, THE HOUSES. So pretty. I am going to say that yes, I am easily impressed, but this trail is my new favourite ever. (That is inside the city). The path was impeccably up-kept and the attention to detail in all the matching cobblestone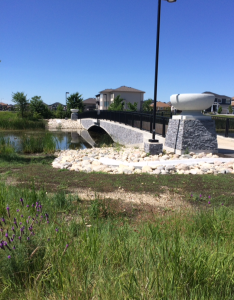 e and sign themes was great. There are also many features on this trail that add interest and luxury. There is a gorgeous bridge (see left) and a stone fountain. That's right guys, A FOUNTAIN. Unfortunately, it was not turned on when I was there, but the fact that they build a fountain into a pathway was amazing to me.
There are so many different niches that are designed into the space of the trails. There are wetlands, oak forest, aspen forest, and grassland/prairie. To the right is a pretty view of the trail that runs through the aspen forest. I am constantly impressed with the city of Winnipeg for their efforts in including natural areas or preserved ecosystems into the design of neighbourhoods. Many of these places I did not even knew existed. The main species is trembling aspen. (I learned this from one of the many interpretive signs throughout the trails). The paths are paved, which is nice for a variety of activities from biking to skateboarding to walking. This trail is an interesting combination of natural space and man made architecture. I think it is pretty unique. I have nothing bad to say about this trail.
Written by: Samantha Worden (Sam)
Sam is a Trails Analyst summer student with The Winnipeg Trails Association. She is working towards a degree in Environmental Studies at the University of Manitoba with a focus in Natural Resource Management. Her hobbies include reading, bike riding, camping, watching and posting on YouTube, and various forms of paper-crafting and planning.