Winnipeggers will soon get the chance to become even more connected. June 4 is Trails Day, when there will be six multi-use trail events for individuals to explore across the city throughout the day.
One brand new trail will be Bishop Grandin Trail West – a five-kilometre route that runs west from the Red River at Bishop Grandin Boulevard to McGillivray Boulevard.It was funded by all three levels of government under the banner of the Manitoba Rural Infrastructure Fund.
A key event organizer says the new trail – which is also part of the Trans Canada Trail system – will help bring communities in southwest Winnipeg together. "This new trail is a stellar example of community connectivity," said Janice Lukes, manager of special projects for Winnipeg Trails. "It also enables access to the University of Manitoba on the east end and the Kenaston big box shopping centers and FortWhyte Alive on the west end."
Lukes, who lives in St. Norbert, said the trail links the communities of University Heights, Waverley Heights, Waverley West, Linden Ridge and Whyte Ridge. On Trails Day, the new route will be showcased by the four-kilometre Cycle Tour – FortWhyte Alive to Crampton's Market, during which participants will get a guided tour of FWA before continuing on the trail for a trip to the market.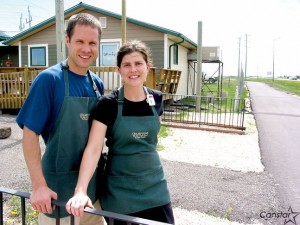 Sean DeGagne (left) and Erin Crampton pictured at Crampton's Market next to the new Bishop Grandin Trail West, which will be one of the featured sites on Trails Day.
Erin Crampton, who co-owns and operates Crampton's Market with her partner, Marc DeGagne, is excited about the new trail – not least because she hopes it will improve safety for local cyclists and pedestrians. "I've seen our customers, including mothers with young kids, dodging traffic when they cross the intersection at Bishop and Waverley," said Crampton, who lives in Waverley Heights. "I'm too scared to cycle on these routes. So, for me, the new pathway is absolutely necessary. There are the road warriors, who will nudge their way through traffic on their bikes. But for the rest of us, the new trail will make it safe and easy, which is lovely."
When event participants arrive at Crampton's Market, they can expect to find a selection of locally grown produce, dry goods and baked goods, as well as the chance to score goody bags and receive bicycle and sports therapy advice from various organizations.
"There will be a whole bunch of local food producers and we'll also be giving out swag bags. People will get a rewards card and receive a sticker at every station they visit. When they get five, they can collect a bag," Crampton said.
Other Trail Day events will include Harte Trail's Paw Trek and Dog Show, which starts at Oakdale Street and Ridgewood Avenue in Charleswood and Discover Transcona's Many New Trails, which begins at the Transcona Historical Museum on Regent Avenue West.
Crampton's Market is located at 1765 Waverley St. For more information, and downloadable maps, visit www.winnipegtrails.com.
[email protected] ( Canstar Community News, May 25, 2011)