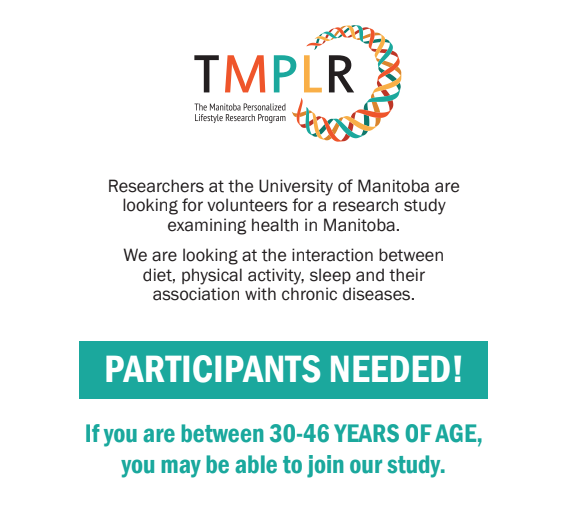 The Manitoba Personalized Lifestyle Research (TMPLR) Program is looking to recruit 800
Manitobans for a study looking at how genetics, lifestyle and microbiota interact to
influence the development of chronic diseases.
For more information and contact details, please see below.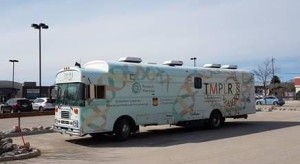 WHO CAN PARTICIPATE?
Anyone who is between 30-46 years of age and has lived in Manitoba for at least 5 years.
WHAT DO PARTICIPANTS DO?
Participants come for 2 assessments (2 hours each on 2 consecutive days) at the
Richardson Centre for Functional Foods and Nutraceuticals at the University of Manitoba,
or to TMPLR's mobile research unit. Remuneration is provided.
Assessments include:
• blood pressure
• body scan to measure lean mass, fat mass and bone density
• blood and urine samples for biomarker analysis
• stool sample for gut microbiome analysis
• DNA sample for genetic analysis
• physical activity test on an exercise bike
• activity monitor for one week to assess day-to-day physical activity & sleep
• questionnaires about current lifestyle and childhood experiences
WHAT ARE THE BENEFITS OF PARTICIPATING?
The research team will provide participants with their information from the measurements
performed such as the body scan, blood pressure and strength test. Participants will also
be remunerated for their participation in the trial. Finally, we hope the information from
this study will benefit Manitobans in prevention of obesity, type 2 diabetes, metabolic
syndrome, cardiovascular disease and kidney diseases.
FOR MORE INFORMATION, PLEASE CONTACT US:
TMPLRtrial [AT] umanitoba.ca • t: 204 480.1042 / 204 298.5483
or visit http://TMPLR.ca