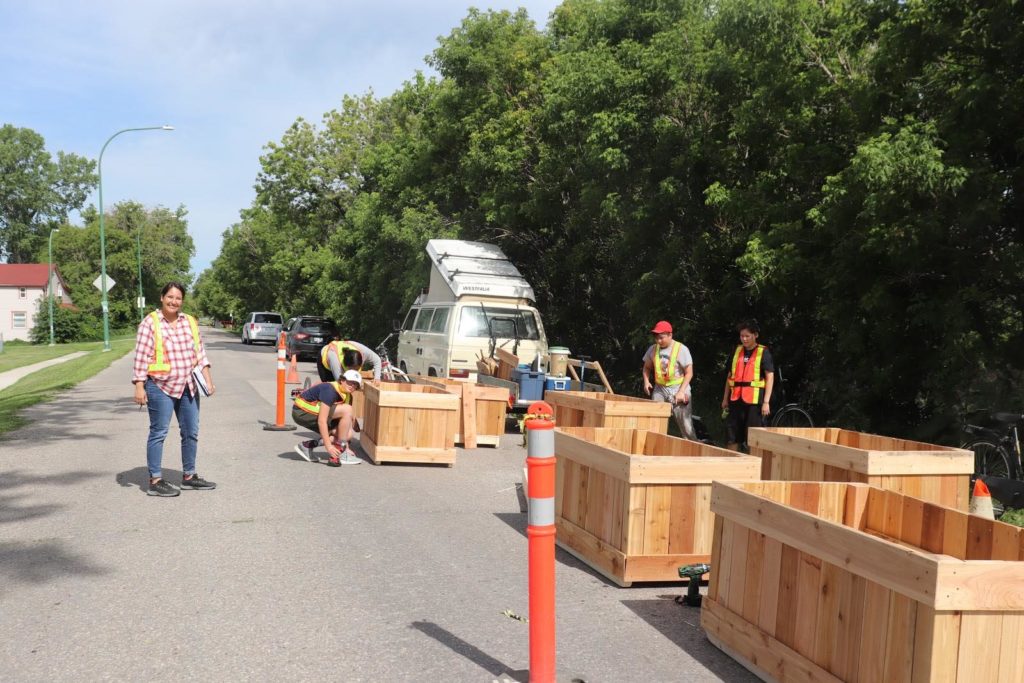 Janell Henry, project manager at Winnipeg Trails Asssociation, on Rover ave between Disraeli st. and Barber for the installation of community-led traffic calming measures along the Trans Canada Trail. (photo by Brennan McKay)
Healing Rover is a project to Heal the people by healing the landscape put on by the Healing Trails group, an Indigenous-led initiative to re-think transportation through policy work, capacity building, education and tangible real-world projects.
As part of a larger effort to heal the people by healing the landscape, and as an emergency transportation measure to link missing pieces in Winnipeg's walk and bike network with designs that offer comfort and safety, the Healing Trails program will quickly improve conditions on an important riverside roadway section. We see an opportunity to include useful wayfinding signage information such as proximity to nearby destinations, and healing through with wording translated into Indigenous languages by etching the planters. The group aims to provide opportunities and support programs that honour Indigenous languages and culture. They see medicine walks, dancing for healing, pipe ceremonies, walking for justice, and sometimes bingo, happening on Winnipeg Trails. Their objective is to heal our city by creating stronger networks between land and people through Indigenous languages, nature camps and curated trail tours.

Quick Facts:

Happening on Rover Street between Angus and Michaelle Jean Park
Community-led traffic calming measures on The Trans Canada Trail
Staying active in the COVID-19 pandemic
Start of the North Winnipeg Parkway
Key connection to Northwest and North East Winnipeg
Connects directly to the Disraeli Pedestrian and Cycling bridge
Safer, quieter, friendlier streets
All Media enquiries to:
Janell Henry
Program Manager
Winnipeg Trails Association
431-996-1875