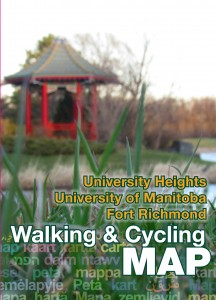 Three communities have come together to create a first of its kind in Winnipeg – a detailed community map. The community of University Heights, the University of Manitoba and Fort Richmond developed a very detailed map which highlights the City of Winnipeg Parkway System and the Trans Canada Trail and it indicates sidewalks, multi-use pathways, traffic lights, push button cross walks, countless community amenities, bus stops, cut through and short cuts on bays and streets, unique points of interest (popular fishing spots, best climbing tree in the community, etc.) and more! It's putting a magnifying glass to the Winnipeg Cycling Map.
Community residents in these three areas have been working to improve education, active transportation opportunities and safety for their neighbourhood. A map provides clear and concise information about what is in the community.
This map is FREE and is located at 25+ locations in the community.