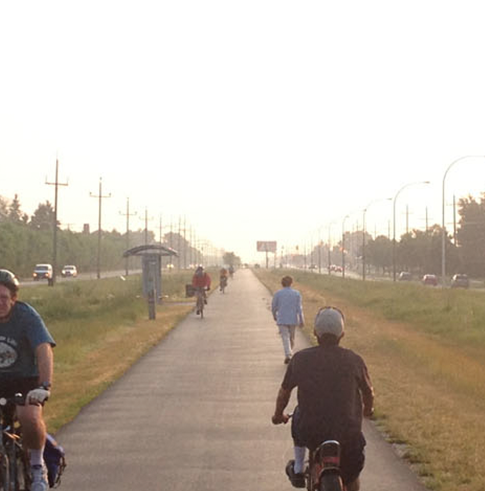 Work with Winnipeg Trails this Summer.
We are looking for 3 people who want to work from the best "office" in Winnipeg . . our growing network of trails and protected bike lanes!
Are you interested in a modern city? Do you like learning more about how cities plan for cycling and walking and accessibility and doing something about it?
Do you have a passion for the future of Winnipeg and its people?
Do you like nature, urban landscapes or spending time outdoors?
Do you like citizen science, city planning or helping people?
Are you social media savvy?
If you answered yes to any of the above, you might be a great fit.
Keep reading.
All applicants must be:
(a) between 15 and 30 years of age (inclusive) at the start of employment;
(b) registered as a full-time student during the preceding academic year;
(c) intending to return to school on a full-time basis during the next academic year;
(d) a student in a secondary, post-secondary, CEGEP (Quebec only), vocational or technical program;
(e) a Canadian Citizen, permanent resident, or person on whom refugee protection has been conferred under the Immigration and
Refugee Protection Act* and;
(f) legally entitled to work according to the relevant provincial / territorial legislation and regulations
We are hiring three (3) Trails Analysts to work with us over the summer.
How To Apply:
1. Review the Job Descriptions below.
2. Write a short email describing why you think you would be a good fit for the position to [email protected] with the subject line "Summer Job Application" and attach a brief resume.
3. Apply as soon as possible.
___
Trails Analyst Job Description

Wage: $14/hr
Timeline:Short term position representing 9 weeks @ 30hrs/week between now and September 2016. Exact work hours and vacation time are flexible and negotiable, depending on start date and needs of project.
Workplace: Work will be carried out on site on trails throughout Winnipeg, and/or at home and/or at our team meeting point at The Forks.
Trails Analysts may be responsible for:
Evaluating the usage of Winnipeg's Trail extensive network of asphalt, limestone, barkchip and nature trails for and collecting important data on walkability, bikeability and barriers to accessibility.
Revealing new opportunities to create on road pathway connections, intersection improvements or trail surface quality changes.
Raising awareness and promoting information on the trail network through public outreach, staffing booths at events.
Promoting trails tourism.
Content management for a new mobile app and contest management.
Communication and social media.
Mapping data
Tasks will include:
Developing a schedule for a methodically investigating/collecting data on the trails network in Winnipeg
Establishing hidden gems using our mobile app: https://winnipegtrails.ca/app/
Greeting members of the public while on site or at trails-related events
Attend regular meetings with the Coordinator and Assistant Coordinator
Independence and self motivation
ALSO:
Self-directed projects based on discussion with Coordinator (tell us what you think is important!)
Education:
Ideal candidate for this position is attending or just finished high school, or attending Post-Secondary (Community College, CEGEP, Technical Institute, University) studies.
Note: Some of the work will include use of mobile applications to communicate. All applicants should have access to a working smartphone, ideally both platforms or iOS only, and extra battery packs.
All applicants should be familiar with Twitter, Instagram, Facebook, the CounterPoint app for counting traffic and our own Winnipeg Trails app.