The Winnipeg Trails Association, Bike to the Future, and the Winnipeg Rapid Transit Coalition have concerns about the bikeway plan for the new Southwest Rapid Transit Corridor that will be built between The Forks and the Pembina-Jubilee underpass. Construction starts later this year.
In mid March, 2009 City of Winnipeg Transit officials presented  an overview of the Active Transportation corridor component to members of the City of Winnipeg's Active Transportation Advisory Committee (which the Winnipeg Trails Association has representation on). The presentation indicated that there was a GAP in the Active Transportation corridor – a GAP that would not allow continuous connectivity from Jubilee to The Forks.
In mid May, 2009 Transit presented an overview with possible 'connectivity' scenarios  addressing the GAP in the Active Transportation corridor. Of all the scenarios presented  – none were in the current scope of $138 million Southwest Rapid Transit Corridor project or budget.
In addition to the GAP in the corridor, current plans propose a single multi-use pathway to be shared by ALL Active Transportation (AT) users (commuters on bicycles to and from downtown, families going to The Forks, wheelchairs, skateboards, etc.) The combination of mixed use AT traffic on one pathway has the potential to lead to cyclist / pedestrian / wheelchair / conflicts conflicts due to the fundamentally different characteristics of each AT user.  In additions, current plans propose a route that is narrower than standard multi – use widths (3.5M) in certain sections.
Please read the GAP flyer to better understand the AT connectivity issues in the Southwest Rapid Transit Corridor. If you can't attend the Open Houses, please email or contact your area elected officials.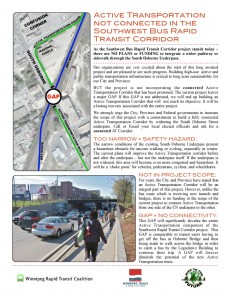 Winnipeg Transit is holding two open houses to gather input on the Southwest Rapid Transit Corridor project.  Inquire about the pathway connectivity and offer your input.
Monday May 25th from 4 – 8 PM at the Masonic Memorial Temple 420 Corydon Ave (Osborne Junction)
Wednesday May 27th from 4 – 8 PM At the Winnipeg Convention Centre 375 York Ave (Room 2H)