Winnipeg Trails received an intriguing inquiry from Marie Claude de Souza, a poet/planner/artist/story-teller from Quebec. Ms. de Souza is seeking individuals willing to talk about railroads and the role they play in communities across Canada. She is working on a piece connected to Canada's 150th. 
From our trail-building work in Winnipeg, we know railways can represent both opportunities and barriers, connections and disruptions.  Railroads occupy mental and physical space and can shape and even define social interaction and have lasting effects who we are. Therefore we are pleased to help her find participants.
If you have 15-30 minutes to share with the artist, we encourage you to read the background info below and contact her.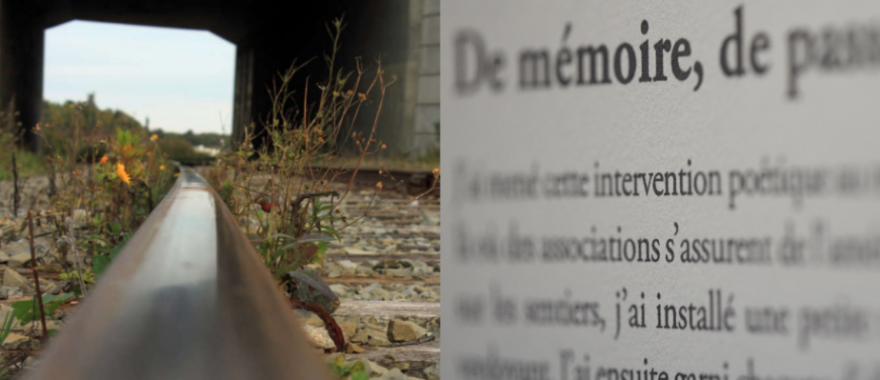 CONTRIBUTE TO AN ARTWORK !
About the artist
Marie-Claude De Souza explores the boundaries between literature and contemporary art. She creates poetic installations and performances in public spaces by collecting stories, vocabulary or handwriting samples from citizens. Through oral transmission, she provokes beauty between strangers. Her work is based on collaboration and conversation.
About her current work
Marie-Claude De Souza's next artwork entitled Traverse (Crossing) will be presented at Stewart Park (Pointe-Claire, Québec) as part of Canada 150. For this purpose, she is recruiting citizens, from different parts of Canada, to explore the symbolic of railroad tracks. Through a series of exchanges around the expression "the other side of the track", she wishes to discover what rails mean on a community scale. Beyond their extent a mari usque ad mare, do they appear as an interconnection or a boundary ?
Participant's profile
• Anglophone or Francophone
• To take part on an individual basis
• Living in a canadian municipality crossed by a railway
• Diversity : participants of all ages, opinions, backgrounds, etc.
Context
• Discussion with the artist will last 15 to 30 min. By Skype or phone (or, alternatively, by email or Facebook)
• The artist will select a few quotations to incorporate in her work.