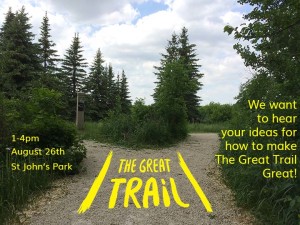 This summer Winnipeg Trails is celebrating the progress that has been made on the Trans Canada Trail. The Great Trail connects our country through a series of hiking, biking, and paddling trails, but there is still lots of work to be done!
|| We want to hear about your trail experiences and make a plan for future funding opportunities. Come share your thoughts and let us know how to spend our money! ||
What's Happening!
We'll be starting things off with a slow roll, all ages, bike ride along The Great Trail starting in Kildonan Park at 12 noon. Rain or shine we'll be slowly rolling down to St. John's Park!
Meeting up at St. John's Park we'll continue the fun!
– 2:30 Local bands Casati and A La Mode will perform!
– TCTea, cake, veggies, and more!
– a competition to test your Dinking Dutchman skills
– a scavenger hunt for gems along the trail using the Winnipeg Trails App (smartphone required)
– a chance to share your experiences and opinions about the future of The Great Trail, chiming in on how and where new funding should be spent!
Our Executive Director, Anders Swanson will be starting an early ride from the start of the Crow Wing Trail, heading north through the city he will attempt to cover as much of The Great Trail as he can on a special cargo bike outfitted with maps and snacks. Throughout the day he'll be posting on our Winnipeg Trails twitter account about his ride along the trail and the improvements it still needs. You can also track his progress on this map on our website.