Today I decided to walk a portion of the Bishop Grandin Greenway. I started by parking at St. Vital Center. I chose the good old Walmart parking lot because 1) everyone uses it as a park and ride anyway and 2) I won't get a ticket or towed there. The only real other options for parking are in St. Vital park or down a residential street, which in my opinion are less convenient. So I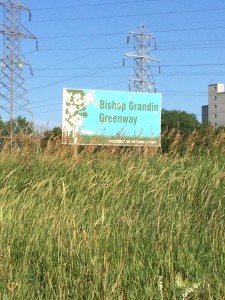 crossed Bishop (on Dakota) and made my way to the trail. One thing that annoyed me a bit about this trail is having to cross at a crosswalk a bit further down. It was not a huge deal but I decided to be a daredevil and cross when the red hand juuuuuust stopped blinking. A car started turning and honked at me a bunch of times. I will say here that yes, I should not have crossed. But the guy could have SLOWED DOWN WHEN HE SAW A PEDESTRIAN! If I had not sped walked a little my back leg would have been chopped off by this guys bumper. Moving on from that heart pounding incident, traffic noise is my other complaint about this trail. I like peaceful walks and the busy street did not provide the atmosphere that gives me the best walking experience. However, I knew that coming into the walk so I wont hold it against the trail.
Something notable along this path is that there was ALOT of graffiti on benches, signs, and even the pavement? Come on people stop that. Note, I am from Transcona and am not a stranger to seeing graffiti, but there was more graffiti on this trail than the Transcona Trail. Also this one person is very keen on getting more followers on tumblr because their link is on a bunch of benches. (see picture to the left) Made me laugh. So here random dude, hope you get a follower from this. Just kidding sto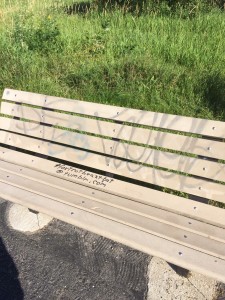 p defacing public property you hooligan. I wonder if they put their info on their profile, cause that would make it easy for the cops to get him.
One thing that I will hold against the trail is the disappointment in the various "attractions" that are marked on the Winnipeg Trails Trail Map. The "orchard" I think I saw and it looked like a small personal garden. I was expecting a Johnny Appleseed stroll through a bunch of fruit trees. This is probably my fault for getting all worked up about it. Also the "butterfly garden" I am not sure I even saw because when I thought I was walking near it I saw the same flowers and grasses that I saw along the entire path, nothing special. If you have ever been to the Zoo then you will expect much more from a butterfly garden. I swear this is the end of the disappointments.
Continuing down the trail I kept thinking how even though it is not one of the most peaceful and amazing trails, it is very important in terms of biodiversity and ecological impact. They made such good use of this green space by letting tall grasses grow and having native plant species. I was also thoroughly impressed with the ponds. They are important for water management and they make a great habitat for waterfowl. Not to mention people love looking at birds. I had no idea that these ponds existed here so I am glad I discovered them for myself and I will share this info with anyone and everyone. I may not go on this trail again, but I am so glad it is preserved and used as such a multipurpose space.
When you head further down the trail you will have opportunities to cut into St. Vital Park. I think this is cool. I debated exploring there a bit but it wasn't really the purpose of m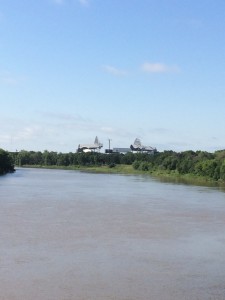 y trip and I was getting pretty tired. I enjoyed walking under the bridge because I felt like a troll and it was a change in scenery. The best view of the trail is on top of the bridge though. You can't appreciate the view of the river from a car, I have drove past that spot so many times and its just not the same as a sunny walk on a Wednesday morning. I would almost go so far as to recommend this spot to visitors and tourists. You can see the stadium in the background and its a good picture opportunity I think. You can see my semi-professional photo to the bottom right. I think I could sell this as a postcard. Anyway, I made it to Pembina and did a mental happy dance before dragging my tired butt onto the 75 bus and letting it wheel me back to my car.
To wrap this up, I think that this trail is great for those who want to exercise or are trying to commute via bike or skateboard. If this trail did not exist I think it would be dangerous for bikes to try and compete with 80km/h traffic. I think it is a good trail, the path is well maintained and there are cool little things to see that you may not have know about or appreciated before.
Written by: Samantha Worden (Sam)
Sam is a Trails Analyst summer student with The Winnipeg Trails Association. She is working towards a degree in Environmental Studies at the University of Manitoba with a focus in Natural Resource Management. Her hobbies include reading, bike riding, camping, watching and posting on YouTube, and various forms of paper-crafting and planning.