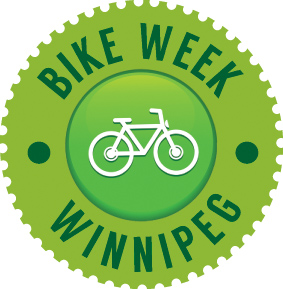 We are very excited to invite you to stop by the Winnipeg Trails Pit Stop at Café Postal on Provencher on Friday June 19th – Bike to Work Day.
Come for some of the best coffee in town, come for the free portraits, come to meet fabulous people.
We are probably the only pit stop with vouchers from Chocolatier Constance Popp! Yum.
So even if your commute is from Charleswood to the airport, and you make a little detour, we won't turn you away.
We also have a car! Yup. Let's say you wanted to save yourself an average of $17,000 a year by getting rid of that car (or your other one). Let's say you love to ride a bike, but you need a car sometimes. Well, if you haven't heard about Peg City Car Co-op, you are in for a treat. They will have a car nearby that you can check out. You can have your cake and eat it too.
Also come check out our new Winnipeg Trails new t-shirts,get a sneak peak at one of the great prizes for our new app!
Speaking of our new app, for Friday only, there will be 5 hidden gems available at this location…so for any of our iOS beta testers, you might want to stop by to get a leg up on the competition.
This is also a chance to come chat with our coordinator about Winnipeg Trails' big plans for 2015, talk to Stéphane from Bike Winnipeg about their proposals for a protected bike lane on Provencher, and share YOUR ideas!
But mostly, today we celebrate cycling!
Visit us here: