This article was commissioned to commemorate the 2nd National Day for Truth and Reconciliation. We asked our friend and former colleague Brennan McKay to share anything he felt important to share. Brennan is a communications specialist and programming coordinator and a former staff member now working for one of our closest partners, Urban Shaman Contemporary Art Gallery. Brennan, through his previous and current role, has been instrumental in helping us launch special projects related to land and language, including Word of the Day, Wiisiniin Da, Speech Act, HealingTrails, Bizindaadiwag, SpeechTrails, and many more.
By Brennan McKay
Growing up in the First Nation community in the late 90's, 2000's and going to school in the Métis community located right next to the reserve till the age of 13, the native tongues (Ojibwe & Michif) were not spoken in school, only English. Only place we would hear it growing up was with our grandparents or our parents if they were a bit older. I've always wondered why our languages were not taught to us until I had gotten older and started learning things more and more about my people.
High school is where I enrolled in the Native Studies course being offered. There, I learned more about my Indigenous ancestry prior to European contact. Learned about the residential schools and what our people went through while attending. Dauphin had a
lot of Indigenous people living there or coming from outta town. No indigenous languages
anywhere!
Later, in my early twenties living in Winnipeg I met the right people who were
beginning a project funded by the government through the Winnipeg Trails Association. Working on bringing the language back started in the summer of 2020 during the Covid-19 pandemic. Started off simply by placing signs of the seed that was planted in Cedar planter boxes located on Rover Ave in Point Douglas.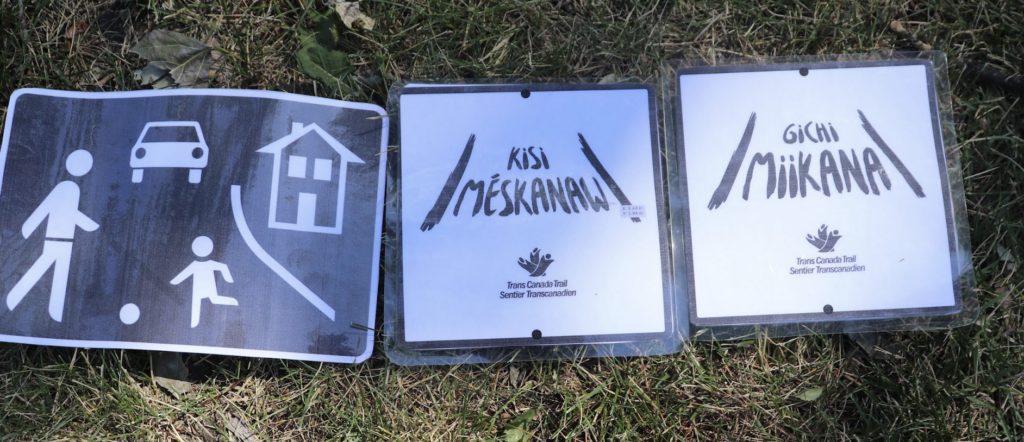 In 2021, "The Speech Act Project" began, coordinated by Janell Henry. Together, her and I, as well as a few other members of the Winnipeg Trails Association, worked on bringing the Ojibwe, Cree and Michif language back into the territory by inventing a language app – a language app that gets you outdoors exploring learning the languages, giving you lessons on pronunciation or stories  as you pass by plants or buildings in our city!  

Being a part of a language revitalization project is really something huge for us
Indigenous people. Being able to see/read our language in our streets and cities one step at a time warms the hearts and souls. Something they tried to take away from us is coming back alive and stronger than ever!