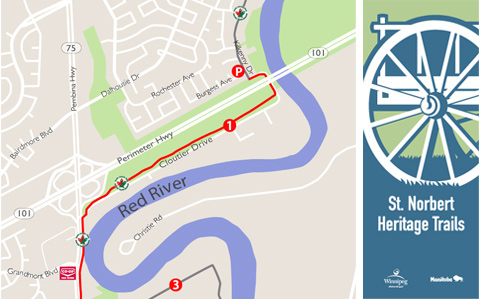 Trail Stewardship Group: Group'Action Saint-Norbert
The St. Norbert Heritage Trails (SNHT), are a series of multi-use pathways and sidewalks on quiet residential streets with a spur trail following the primary diking system. The trails cover approximately 9 km and weave through the rich cultural heritage of the community of St. Norbert.  The SNHT is part of the Trans Canada Trail, the longest trail system in the world with boundaries marked by Cloutier Drive to the north and the Red River Floodway channel to the south.
St. Norbert is the entrance to Winnipeg,  the birthplace of the province, and home of the Red River Floodway gates.  This is a unique community with a storied history that includes a past life as a vital trading centre, the starting point for annual buffalo hunts, and a transportation hub beginning in the early 1800s.  Named in honour of Norbert Provencher, the first bishop of St. Boniface, St. Norbert has evolved into a picturesque residential suburb that maintains its links to an intriguing history.
FAST FACTS
crushed limestone, asphalt & concrete sidewalk surfaces
9 km route length
Parking
St Norbert Community Centre, 3450 Pembina Hwy
St Norbert Provincial Heritage Park, 40 Turnbull Drive
along local streets
Washrooms / Convenience Store
Red River Co-op – 3455 Pembina Hwy
POINTS OF INTEREST
Sentier Cloutier Trail – A 2 km multi use asphalt trail
St Norbert Farmers Market – Manitoba's largest outdoor summer market
Dike Foot Trail – Follows the St. Norbert's primary dike
Pollock Island – 6 hectare city park with multiple foot trails
Trappist Monastery Provincial Heritage Park – Home to the Trappist Monastery Ruins.
St Norbert Provincial Heritage Park & Tourism Centre
Duff Roblin Provincial Park –  Future park and home to the Red River Floodway gates.