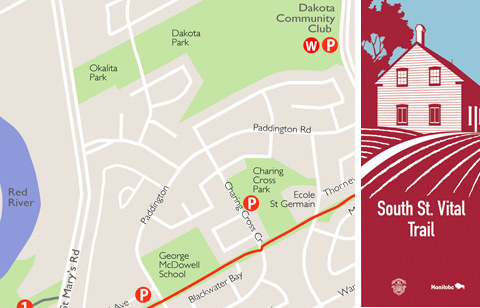 Trail Stewardship Group: Transcona Trails Association
Stretching from St Mary's Rd to St Anne's Rd, this trail connects St Vital suburbs from west to east and is used primarily as a commuter route by surrounding neighbourhoods. Expect to see lots of children along the route as it provides safe access to green space and schools.
Aside from the nicely landscaped residential yards and gardens bordering the trail, you'll find an interesting variety of plantings along the corridor itself. Look for some beautiful Golden willow, Ontario maple, and Schubert chokecherry. In early spring the wonderful Hawthorne blossoms make this pathway particularly scenic.
FAST FACTS
Asphalt surfacing
2.6 km Distance markers installed
Parking
neighbourhood streets and parks
Washrooms / Refreshments
Dakota Community Centre, 1188 Dakota Street
POINTS OF INTEREST
Henteleff Park – Once home to the Henteleff family market gardens, this land also served as the City's tree nursery for a number of years. Today you can see the many linear rows of mature native and ornamental tree species. Henteleff Park is now a set up for passive (low impact) recreational use. Collaborative efforts by the Henteleff Park Foundation and the City of Winnipeg are underway to restore the riparian habitats along the Red River and Normand Creek and improve the area for wildlife. Wood chip trails, benches and interpretive signage enhance the enjoyment of park users.