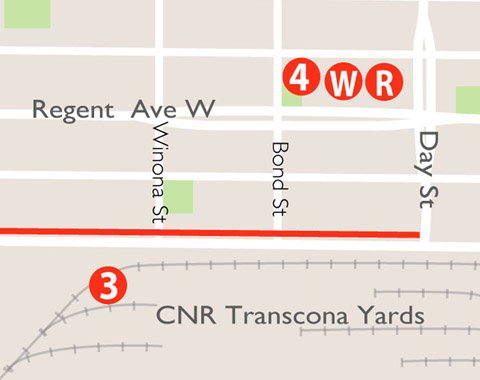 The Pandora Pathway is a asphalt multi-use trail that borders the north side of Pandora Avenue West from Plessis Road to Day Street. This paved path was recently constructed to provide a safe commuter path.
FAST FACTS
3.5 m wide asphalt surface
1.7 km length
POINTS OF INTEREST
New Flyer Industries – headquartered in Winnipeg, this is North America's leading manufacturer of heavy-duty buses.
VAE Nortrak – (400 Pandora Ave W) North America's leading manufacturer and supplier of trackwork and materials.
CNR Transcona Yards – Transcona has long been known as a railway town,and the CNR Transcona Yards have maintained a large presence in this area. Transcona was founded in 1909 as the site of the repair shops for the Grand Trunk Pacific and National Transcontinental Railways. Its name is derived from combining Transcontinental with Strathcona, the name of Donald Smith, Lord Strathcona, a former Manitoban who was instrumental in building Canada's first railway.Today the successor to these railways, Canadian National Railway, is still a major employer in the community.
Transcona Historical Museum – (141 Regent Ave W) maintains and promotes the history, stories and community spirit of Transcona. Exhibits explore the origins of Transcona and the accomplishments of its citizens. Visitors can learn about our railway heritage, veterans, community builders and The Greatest Transconians. There are also extensive archaeology and lepidoptera collections.