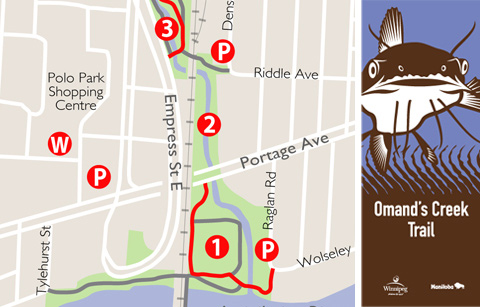 Trail Stewardship Group: Assiniboine Watershed Network
The Omand's Creek Greenway Trail follows Omand's Creek north from the Assiniboine River towards Westview Park. It has two gaps – one between Portage Avenue and Westway and another between Sargent and Wellington Avenue. The trail runs through Omand Park, Bluestem Park and Westview Park connecting area residents to such amenities as Polo Park and the Winnipeg Stadium.  Omand's Creek is an important urban oasis for wildlife. Along the way the trail-user will pass by quality riparian forest and native tall grass prairie.
FAST FACTS
Asphalt and crushed limestone surfacing
0.53 km & 1.6 km route lengths
Parking
Raglan Road
Polo Festival (Chapters / Home Depot) – enter off Empress St
Denson Place
Polo Park Shopping Centre
Washrooms / Refreshments
Polo Park Shopping Centre
POINTS OF INTEREST
Omand Park – Good quality riparian forest runs along Omand's creek.  There are also baseball diamonds and pathways throughout the park.
Omand's Creek – Although one of the most redirected waterways in Winnipeg, this creek serves as important habitat for fish and other wildlife and in spring, when water levels are high, northern pike and other fish use this tributary of the Assiniboine River as spawning grounds.
Bluestem Nature Park – This is home to native tall grass prairie that resulted from native prairie sods being transplanted to the site and by seeding with native prairie grasses and wildflowers.  This unique natural prairie stream ecosystem serves as an important natural oasis in Winnipeg for plants and animals.  Careful observers will find snakes curled around the vegetation as well as armies of frogs.  This park is home to beautiful and fragrant plants such as common milkweed which is a host for monarch butterflies, pearly everlasting, gaillardia, and the threatened Culver's root.
Westview Park – Affectionately known as "Garbage Hill", this entire park is an off-leash dog area and is used for activities such as tobogganing in the winter.