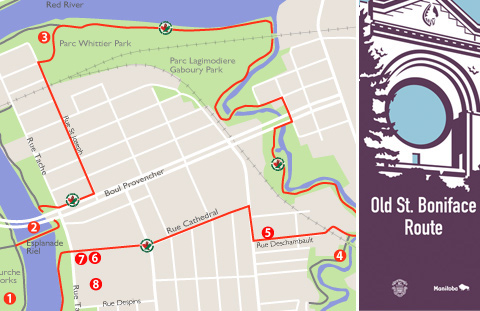 Trail Stewardship Group: Save our Seine
This trail winds through St Boniface, the heart of French speaking Winnipeg and the largest francophone community in Western Canada. Established by the Roman Catholic Church in 1818, this area is home to many people who are themselves the descendants of the earliest French settlers.
Old St Boniface revels in French Canadian culture which is still strong here. It is visible on street signs and audible in local shops and banks.  As you stroll along St. Boniface's heavily treed streets you'll spot the names of many historical figures, such as religious leaders Provencher and Taché, and fur trader La Vérendrye. And while St. Boniface is rooted in history, it continues to grow. The new Esplanade Riel has encouraged greater discovery of the area, and several new businesses have already opened near the bridge, including a romantic restaurant and a gelateria.
FAST FACTS
asphalt surface
8.4 km route length
Parking
The Forks
POINTS OF INTEREST
The Forks – A meeting place for thousands of years, this is the city's most popular gathering place, attracting nearly four million visitors each year.
Esplanade Riel – This eye-cathching pedestrian walkway parallels the Provencher Bridge and connects downtown Winnipeg to St. Boniface.
Fort Gibralter – This replica of the North West Company fur trading post commemorates the early history of Western Canada when fur-trading was the main industry.
Seine River Trail – This crushed limestone trail is a natural recreational space for passive activities like walking and birding or canoeing, cycling, and x-country skiing.  It is also a wonderful habitat to flora and fauna, and an outdoor classroom for nature and local history.
Gabrielle Roy House – 375 Rue Deschambeault, the childhood home of one of Canada's most distinguished writers is now open to the public.
St Boniface Cathedral – 190 Cathedral Avenue. The Basilica built in 1908 was destoyed by fire in 1968.  The present structure, designed by world famous architect Etienne Gaboury,  incorporates the remaining Romanesque facade.
Louis Riel grave site

St Boniface Museum – Built in 1846, this is the largest oak log building in North America.