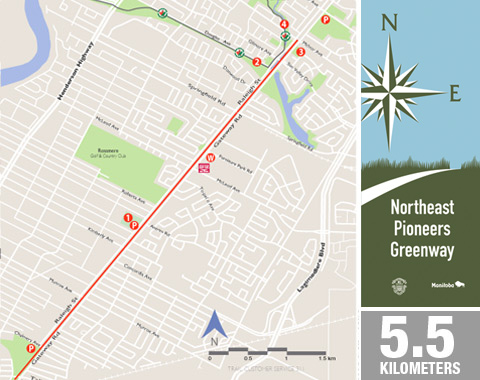 Trail Stewardship Group: River East Neighbourhood Network – Trails Committee
The Northeast Pioneers Greenway (NPG) is a rail-to-trail conversion of the former Marconi Spur rail line. This former CPR rail line, constructed in 1878, is now a popular active transportation corridor, which has been embraced by the community. Native prairie habitat thrives along the NPG providing homes for birds and insects. Come out to see remnants of Tall Grass Prairie, wetland meadows and river bottom forest. Interpretive signs assist in identifying flora and fauna, such as big bluestem, little bluestem, needle grass, milkweed, asters, mallards, carp, turtles and more. Historical signs along the greenway honour pioneers, past and present, while inspiring future generations. The NPG connects communities from The Forks National Historic Site to Birds Hill Provincial Park.
FAST FACTS
Asphalt surfacing
5.5 km  Distance markers installed
Parking
Chalmers Community Centre – 480 Chalmers Ave
Centennial Park – 800 Raleigh Ave
Gateway Recreation Centre – 1717 Gateway Rd
Washroom / Convenience Store
Red River Co-op – 1138 Gateway Rd
Tim Horton's – 1139 Gateway Rd
POINTS OF INTEREST
Centennial Park – Local residents united to save a large grove of oak trees from a housing development and the area was turned into Centennial Park.
Trans Canada Trail – This section of Trans Canada Trail currently follows sidewalks and city streets.  Plans are underway to install a multi-use pathway in 2012.
Michael Hrushovetz Park – This small urban forest was donated to the City of Winnipeg by the Hrushovetz family, who were local market garden pioneers. This natural habitat had been owned by the family since 1925.
Bunn's Creek Trail – Bunn's Creek Trail, part of the Trans Canada Trail, weaves through a quiet residential neighbourhood situated alongside Bunn's Creek.