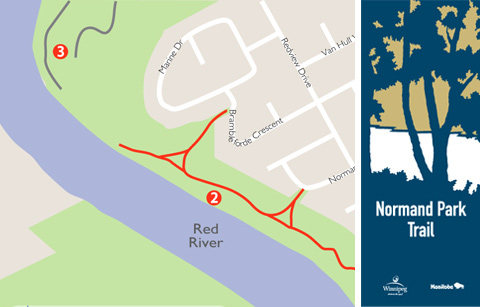 Trail Stewardship Group: Friends of Normand Park
Area residents make heavy use of this carefully landscaped pathway that snakes along the banks of the Red River.  The trail was designed in line with the city's new policy of preserving river banks for recreation.  The Normand Park Residents Association and Winnipeg Parks worked together to build a walking and cycling path through existing native river forest vegetation with native grasses and flowers planted in the open areas of this 6 hectare linear parkway.
This trail system is one of Winnipeg's well kept secrets. It offers spectacular views of the Red River and is home to an interesting variety of birds and animals.
FAST FACTS
Crushed limestone surfacing
0.8 km route length
Parking
South end of Redview Drive
POINTS OF INTEREST
Play structure – A popular children's play structure is located in the south end of the park, adjacent to the trail.
Riverbank restoration – At the west end of Norman Park, you will find new tree plantings as well as pockets of pristine river bottom forest.
Henteleff Park – A 16 hectare passive park on the banks of the Red River.  Currently there is no trail linking Normand and Henteleff Park.