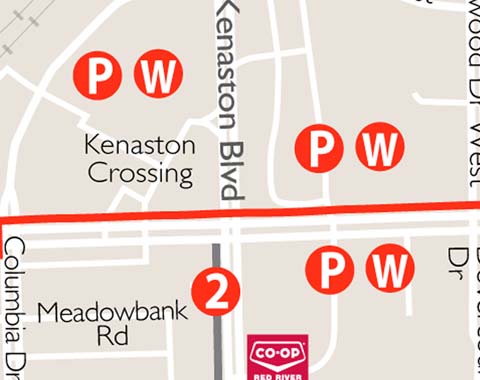 The McGillivrayTrail is a new multi-use pathway that runs east / west connecting Pembina Hwy to FortWhyte Alive. The eastern section that borders an older residential neighbourhood is the most scenic and boasts a fine canopy of mature trees. The western section runs adjacent to Linden Woods on a nicely bermed and landscaped path before it meets up with Winnipeg's largest 'power centre' – a large collection of big box stores.
FAST FACTS
asphalt surface 3.5 metres in width
4.5 km route length
Parking
Linden Ridge Shopping Centre on McGillivray @ Kenaston
Kenaston Crossing on McGillivray @ Kenaston
Washrooms
Red River Co-op – 1745 Kenaston Blvd
POINTS OF INTEREST
FortWhyte Alive – is a rural oasis inside the city. It offers more than 240 hectares of aspen forest, tall grass prairie, scenic lakes, hiking trails and floating marsh boardwalks. The interpretive centre includes a Touch Museum as well as the largest fresh water aquarium in Manitoba. It is also home to Winnipeg's only urban herd of bison.
Bishop Grandin Trail West – a new multi-use pathway that borders Bishop Grandin Blvd and Kenaston Blvd between Pembina Hwy and McGillivray Boulevard.
Waverley Trail – a new multi-use pathway that runs between Taylor Avenue and McGillivray Boulevard.