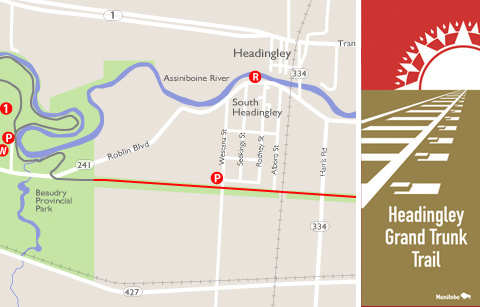 Trail Stewardship Group:  Friends of the Headingley Trail
Facebook page
Blog
This trail is on an abandoned CN railway bed that traverses the municipalities of Headingley and Cartier and covers approximately 10 km from the Perimeter Highway west into Beaudry Park.  The railway bed, originally built by the Grand Trunk Pacific Railway, was used from 1894 to 1972.
Along the trail you'll experience three of the major ecosystems of the Prairie region – prairie, wetlands and forest, each with their associated plants, animals, birds, insects and other wonders of nature.  Being in close proximity to the Assiniboine River and Beaudry Park results in rich potential for wildlife viewing.  Watch for eagles, hawks, shrikes, coyote, fox and deer; cattails, golden rod and wild licorice;  oak, aspen and a variety of willows.  All are present at various points on the trail.
FAST FACTS
crushed limestone & grass surface
10 km route length
Parking
Beaudry Provincial Park parking lot off Roblin Blvd (241)
Wescana Street or any streets connecting with the trail
Washrooms / Convenience Store
Beaudry Provincial Park parking lot off Roblin Blvd (241)
Refreshments
In the town of Headingley
POINTS OF INTEREST
Beaudry Provincial Park – Beaudry Park is home to some of the largest basswood, cottonwood and maple trees in the area.  This diverse forest supports a wide variety of plants and wildlife.  Ferns, wild grapevines, white-tailed deer, fox, owls, beaver and muskrat are plentiful.
Rest Area – Seating area located on trail
Harte Trail – The Harte Trail is part of the Trans Canada Trail and
is the Headingley Grand Trunk Trail's connection to the Winnipeg trail
system linking into Fort Whyte Alive, Assiniboine Park, The Forks and
beyond.