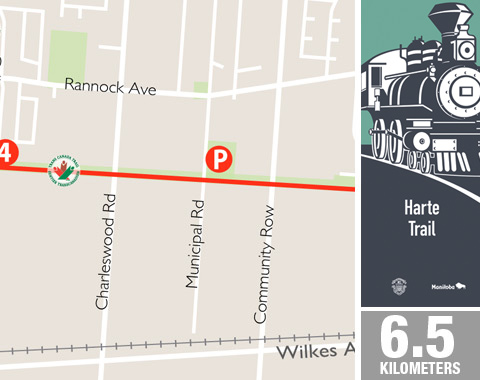 Trail Stewardship Group: Friends of the Harte Trail (visit website)
This popular trail is part of the Trans Canada Trail and runs through a narrow strip of
wilderness on an old railway bed.  The path is intersected by half a dozen streets, and it is clear where the locals gain access, from numerous well worn footpaths meeting the trail. Its name is taken from the Harte Line, the first section of Grand Trunk Pacific Railway built in western Canada in 1894.
Over the years fruit bearing shrubs, Siberian elm and other native plants have grown up as shelter. This is a perfect example of how a variety of natural growth takes over when land is left alone.
FAST FACTS
Crushed limestone surfacing
6.5 km Distance markers installed
Parking
Marj Edey Park – 4230 Ridgewood Ave
Fraser Meadow Park – Municipal Rd at Ridgewood Ave
Washrooms
Marj Edey Park – 4230 Ridgewood Ave
POINTS OF INTEREST
Thundering Bison Trail – Asphalt trail connecting Fort Whyte Alive, Preston Trail,  Assiniboine Forest and the Harte Trail.
Preston Trail – Limestone trail weaves through Assiniboine Forest. Named in honor of Charleswood pioneer family.
Assiniboine Forest Trails – A variety of wood chip, asphalt and crushed limestone trails wind through forest, prairie and marsh in Canada's largest (280 hectare) urban nature park.
Van Roon Prairie Garden – Native species garden and tree area. Named in honor of long-time Charleswood residents.
The Headingley Grand Trunk Trail – This relatively new trail, also built on an old rail bed, leads from the Perimeter Highway out to Beaudry Park.