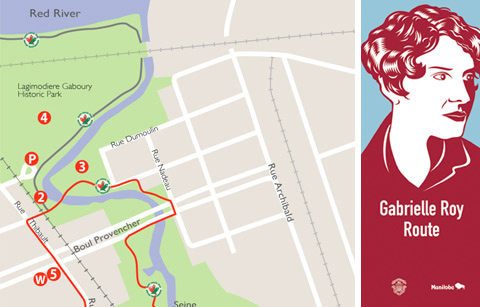 Trail Stewardship Group:  Save our Seine
This route in the east quarter of old St Boniface is half on sidewalks and half on the Seine River Greenway. Much of it follows the Trans Canada Trail. It is named in honour of famed author Gabrielle Roy who was born and raised in the rambling frame house at 375 Rue Deschambault.  From her prairie roots, Roy became one of Canada's most prominent authors whose several books have been translated and read in all corners of the globe. Her writings span the country, but as often as not, Roy's settings and characters are the people and places she knew while growing up in Manitoba.
FAST FACTS
Combination of crushed limestone and cement  sidewalk surfacing
2.6 km route length
Parking
Lagimodiere Gaboury Historic Park parking lot
residential street parking
Washrooms / Refreshments
Franco Manitoban Centre – 340 Provencher Blvd
POINTS OF INTEREST
Gabrielle Roy House – 375 Rue Deschambault was home to one of Manitoba's most celebrated authors. It is now a museum, where you can tour the rooms and views made famous through her writing, including the novel Rue Deschambault (Street of Riches).
Seine River Greenway Trail – This crushed limestone trail is a natural recreational space for passive activities like walking and birding or canoeing, cycling, and x-country skiing.  It is also a wonderful habitat to flora and fauna, and an outdoor classroom for nature and local history.
Dumoulin Park – An open green space adjacent to a residential area on the east side of the Seine.
Lagimodiere Gaboury Historic Park – This former industrial land has been transformed into a unique park with interpretive signage and an often wild, nature trail along the Red River to the confluence of the Seine River.
Franco Manitoban Centre – maintains, encourages, and supports all types of French language cultural activities. The Centre houses many cultural groups such as Le Cercle Molière, that contribute to the cultural and artistic vitality of the Franco-Manitoban community.