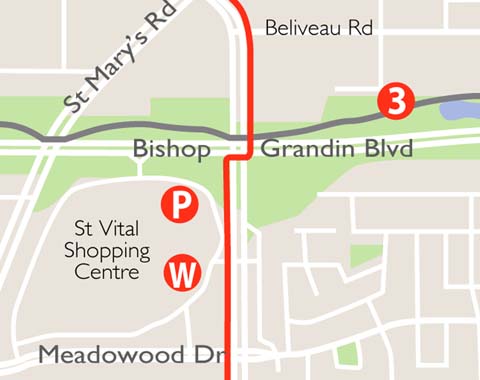 The Dakota / Dunkirk Pathway is an important link to / from south Winnipeg. This new multiuse pathway, in conjunction with the Hay Bikeway, connects St.Vital with the downtown. The pathway links many residential communities and business along the way and also enables access to a large retail hub and St.Vital Shopping Centre.The pathway is 3.5 m in width and is surfaced in asphalt.
FAST FACTS
asphalt surface
5.5 km route length
Parking
St.Vital Shopping Centre – 1225 St Mary's Rd
Jonathan Toews Community Centre, 1188 Dakota Street
POINTS OF INTEREST
South Winnipeg Parkway – This section of the South Winnipeg Parkway is a scenic 8 km multi-use limestone surfaced pathway that follows the west bank of the Red River all the way from the Norwood Bridge to Cockburn St in Riverview.
Niakwa Trail – Named after the residential community of Niakwa, this pathway follows the north side of Fermor Avenue to Niakwa Road East. This popular multi-use trail is an important pedestrian and cyclist corridor and provides a vital link to communities and amenities. A unique footbridge enables the crossing of the Seine River, and the trail passes by a great play structure for children of all ages.
Bishop Grandin Trail – is Winnipeg's longest multi-use trail, spanning just over 12 km, and serving as an active transportation spine for south Winnipeg.
Jonathan Toews Community Centre – named for one of Canada's most famous hockey players who played here as a child.This facility began as a modest community centre but now has two hockey arenas, a floor-curling facility, a gymnasium and a large hall for social events.
South St Vital Trail – Stretching from St Mary's Rd to St Anne's Rd, this trail connects St Vital suburbs from west to east and is used primarily as a commuter route by surrounding neighbourhoods. Expect to see lots of children along the route as it provides safe access to green space and schools.