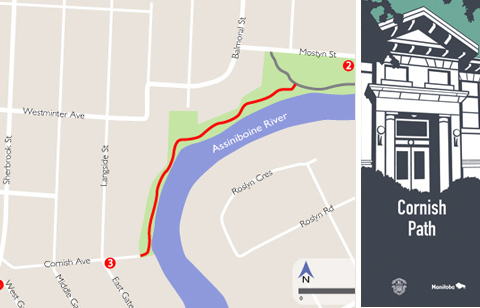 This trail skirts the Assiniboine River between the Osborne Street bridge and East Gate in Armstrong Point.  It winds through some of the most breathtakingly beautiful cottonwood trees in the city and supplies spectacular views  – especially of the Legislative Building.  It's an informal trail – really a series of monkey trails, and to the uninitiated a truly scenic find.  It's also one of the city's most popular corridors for pedestrians and cyclists. It's used by hundreds of people every day through all seasons excepting of course, wet springs, when it lies submerged under many feet of water.
FAST FACTS
dirt track surface with some wood chips (may be muddy after a rain)
0.5 km route

Parking
residential streets
POINTS OF INTEREST
Legislative Building – This impressive edifice was constructed of native Tyndall stone quarried east of Selkirk and is an example of neoclassical architecture on a grand scale.  The magnificent Golden Boy that tops the dome is 16 feet from toe to torch and is sheathed in 24 karat gold.
Granite Curling Club – Designed by James Chisholm, the Legislative Building architect, this Tudor framed clubhouse at 22 Mostyn Place was built in 1909 and designated a heritage building in 1986.
Armstrong Point – A short distance up Cornish Avenue you'll find a city landmark – the tyndall stone gates of Armstrong Point.  They mark the entrance to one of the city's oldest and most prestigious neighbourhoods with buildings rich in historic and architectural significance.
Cornish Library – The Cornish Library, named for Winnipeg's first mayor, has stood at its present location since 1914.  This stately little building was erected with funds from U.S. millionaire Andrew Carnegie, who bellieved that the best asset of any community should be its public library system.