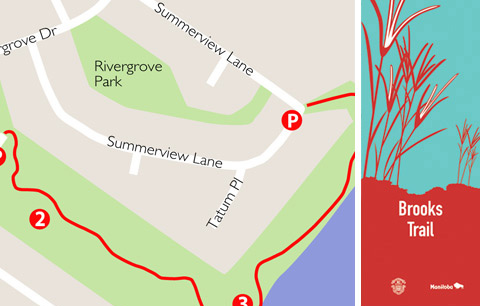 Trail Stewardship Group: Naturalist Services Branch
Trail was named in recognition of the efforts of Scott Brooks, the
driving force behind the building of the Red River Community Centre.  This
pleasant trail skirts the Red River and weaves through a lovely greenspace
bordering the upscale suburb of Rivergrove. It has scenic overlooks, decorative
benches and foot bridges and is completely accessible for wheelchairs and
child strollers.
FAST FACTS
asphalt surface
0.8 km route length
Parking
on McBeth Street adjacent to McBeth Park
Washrooms / Convenience Store
Red River Co-op – 2535 Main Street
POINTS OF INTEREST
McBeth House – Once a Scottish family's early pioneer home, it is now a seniors activity centre. The McBeth family gifted the home and surrounding farming property to the City of Winnipeg for use as a passive park.
Tall grass prairie restoration site – At one time tall grass prairie was a vast sea of waving grasses and wildflowers extending from southern Mantioba to Texas.
River bottom forest – This forest is home to some of Winnipeg's largest cottonwood trees.