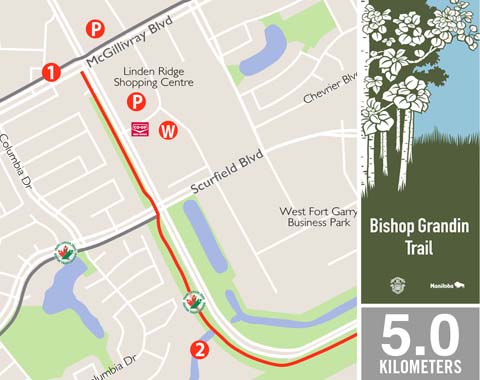 IMPORTANT: Winnipeg Trails has long supported the renaming of both the greenway and the nearby road after which it was named. As a signatory to Winnipeg's Indigenous Accord, we are firmly committed to the work of reconciliation, with a particular emphasis on Indigenous languages and stories in the landscape. We support the work being done by the local stewardship group to address both the name of the greenway they have stewarded deftly for years and the renaming process that will unfold. As we move forward in a spirit of healing and reconciliation, we look forward to a future where dark periods in our history, a period that continues to this day, is openly discussed and addressed, including finding more appropriate ways of recognizing historical figures and naming important transportation and recreation facilities. All references to Bishop Grandin below should be seen as errata and will be replaced once a new name is chosen, in a good way.
UPDATE: This post has been updated to reflect the renaming of Bishop Grandin Boulevard to Abinojii Mikanah, and Bishop Grandin Trail to Awasisak Mēskanow, as chosen by the Indigenous Knowledge Naming Circle. The printed material and graphics on this website will be updated as soon as possible, as a next step. Additionally, we would like to acknowledge and appreciate our colleague Janelle Henry, who has played a part in the renaming efforts.
Awasisak Mēskanow Trail is Winnipeg's longest multi-use trail, spanning just over 12 km, and serving as an active transportation spine for south Winnipeg. Because the trail crosses over the Red River – it is often referred to as the Awasisak Mēskanow Trail East (7 km) of the Red River and Awasisak Mēskanow Trail West (5km). Awasisak Mēskanow Trail West is also part of the Trans CanadaTrail. The trail travels on top of a high berm offering a panoramic view of south Winnipeg, passes along side the residential developments of Bridgwater Forest and Whyte Ridge, alongside south Winnipeg's 'big box shopping developments and via the McGillivray Trail – connects into FortWhyte Alive nature centre. Currently, a section of the Awasisak Mēskanow Trail West is gravel and will be asphalted when Kenaston Blvd roadway is extended further south (~ 2012 / 2013).
FAST FACTS
asphalt surface
5 km route length
Parking
Linden Ridge Shopping Centre on Kenaston Blvd
Kenaston Crossing on Kenaston Blvd
Washrooms
Red River Co-op – 1745 Kenaston Blvd
POINTS OF INTEREST
McGillivray Trail – a multi-use connector trail that follows McGillivray Blvd connecting Pembina Hwy to FortWhyte Alive.
Navin Drain – provides fish and bird habitat.
Crampton's Market – at 1765 Waverley is an on-the-trail attraction with an ice cream shop, a seasonal grocery store that specializes in locally produced in-season fruit and veggies, natural meats, made in Manitoba grocery items, and an in-store bakery.
Albrin Park – This small children's playground park gives you a terrific view of the trail in both directions.
Bishop Grandin Trail East – An asphalt multi-use path that follows Abinojii Mikanah from the Red River east to Lagimodiere Blvd.