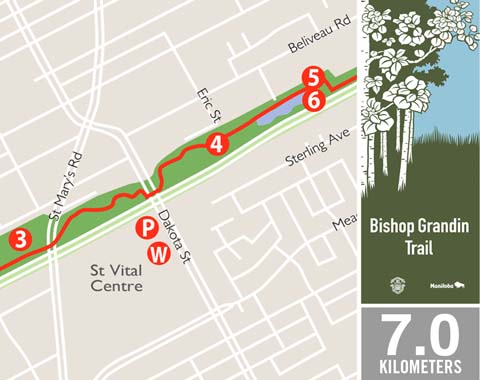 IMPORTANT: Winnipeg Trails has long supported the renaming of both the greenway and the nearby road after which it was named. As a signatory to Winnipeg's Indigenous Accord, we are firmly committed to the work of reconciliation, with a particular emphasis on Indigenous languages and stories in the landscape. We support the work being done by the local stewardship group to address both the name of the greenway they have stewarded deftly for years and the renaming process that will unfold. As we move forward in a spirit of healing and reconciliation, we look forward to a future where dark periods in our history, a period that continues to this day, is openly discussed and addressed, including finding more appropriate ways of recognizing historical figures and naming important transportation and recreation facilities. All references to the Bishop Grandin below should be seen as errata and will be replaced once a new name is chosen, in a good way.
UPDATE: This post has been updated to reflect the renaming of Bishop Grandin Boulevard to Abinojii Mikanah, and Bishop Grandin Trail to Awasisak Mēskanow, as chosen by the Indigenous Knowledge Naming Circle. The printed material and graphics on this website will be updated as soon as possible, as a next step. Additionally, we would like to acknowledge and appreciate our colleague Janelle Henry, who has played a part in the renaming efforts.
Trail Stewardship Group: Bishop Grandin Greenway Inc.
Awasisak Mēskanow Trail is Winnipeg's longest multi-use trail, spanning just over 12 km, and serving as an active transportation spine for south Winnipeg. The trail connects from the residential community of Sage Creek in the far east of Winnipeg, passes through many communities along the way and via connecting trails leads all the way to the community of Charleswood. Because the trail crosses over the Red River – it is often referred to as the Awasisak Mēskanow Trail East (7 km) of the Red River and Awasisak Mēskanow Trail West (5km).
Awasisak Mēskanow Greenway Trail
Awasisak Mēskanow Greenway Trail is more than a system of pathways – it is a network of nature areas that includes 3 retention ponds (named Apakway, and Eagles and Nature's Haven) and public pathways that link and support human and wildlife communities. In 2000 a small group of community citizens interested in in enhancing and conserving the area along Abinojii Mikanah Boulevard between the Red and Seine River, formed the volunteer charitable organization Bishop Grandin Greenway Inc (BGG).
FAST FACTS

Asphalt surfacing
7 km Distance markers installed
Parking
St Vital Park – 190 River Rd
St Vital Shopping Centre – 1225 St Mary's Rd
Washrooms / Refreshments
St Vital Park – 190 River Rd
St Vital Shopping Centre – 1225 St Mary's Rd
POINTS OF INTEREST

Fort Garry Bridge Park – Located in St. Vital between the two bridge lanes, this tiny park contains two fascinating interpretive monuments that mark the completion of the Winnipeg Aqueduct and the development of Bishop Grandin Boulevard.
Butterfly gardens – More than 20 varieties of native plants were placed on this site in an attempt to renaturalize the area and to provide a habit for several butterfly species.
Fruit orchard – Winnipeg first public orchard has a wonderful variety
of fruit trees and shrubs including Norland apples and Nanking cherries.
Community Gardens – A partnership with St. Boniface / St. Vital Rotarians and Bishop Greenway Inc. offers area residents a chance discover their green thumbs and grow their own produce.
Public art named 'land/mark' – Commissioned by the Winnipeg Arts Council, this unique interpretation of the area's history, titled 'land/mark' greets trail users as they 'round a bend in the trail.
Eco-Education Site – This interpretive site provides an opportunity for local schools and members of the community to explore nature in an urban setting.
Louis Riel Sr Route – An asphalt trail which is part of the Seine River Greenway system.
Bois Des Esprits Trial System – An asphalt trail which is part of the Seine River Greenway system.
Sage Creek Trail – a crushed stone trail that leads into the developing community of Sage Creek.