Questions? Contact Signy Brownell ([email protected])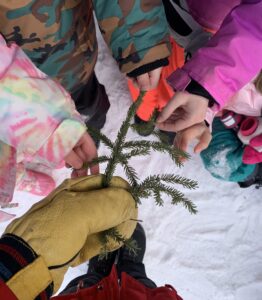 NatureHood is an initiative of Nature Canada which works to connect people of all ages to nature in their neighbourhood. The goal of this program is to address barriers to accessing nature and aims to get everyone outside and connected to nature near where they live.
WTA in schools is a NatureHood pilot project as part of WTA's#FutureForests project, presented in partnership with École Provencher and funded by ECCC. As part of this program, students will learn about nature in their community and the greater Manitoba area, focusing on native tree species. Students will go on monthly nature stewardship walks in their community and field trips to local parks and to Rockwood National Wildlife Area. As part of ongoing tree stewardship, students will collect seeds, which WTA will plant along transitways to creature green corridors in and around Winnipeg.
Want to learn more about our partners? Follow these links for NatureHood and Nature Canada.